Your ETR (Estimated Time to Read): 10 minutes
Your ETII (Estimated Time to Implement Ideas): 5 weeks

Read my book

Say It Quick!
July 2014
A Father's Choice
I'm surprised and delighted that at age 14, my daughter still asks me to help pick out her clothes. Naturally, I choose something conservative: a long sleeve top and loose fitting jeans. Her choice has flair: a top with skinny shoulder straps and a short, swishy skirt.

Hey, why did she bother asking anyway? What about my inspired brainchild? Was it merely a measure of what not to do in the teenage world?

In the end, she looks great. Does it matter that my suggestion was rejected? Even the ideas that aren't used contribute to success.
Powerful Questions
In my job I ask a lot of questions. Whether leading a group discussion, helping people learn from an activity, or facilitating a process of visioning, I ask questions that will encourage people to think deeply and challenge their assumptions.
I learned long ago that certain questions are conversation killers. Start your query with the letter "D" (Do, Does, Doesn't, Did) or a form of "Is," "Are," or "Was" and you'll certainly hear a one-word answer. Begin with "Why" and the person answering will probably feel accused and become defensive.
These simple rules about asking questions have served me well. But my ability to ask better questions has taken a leap forward after discovering the concept of Powerful Questions. A quick-read article, The Art and Architecture of Powerful Questions by Eric E. Vogt describes three dimensions of questions that can make them more profound and more useful.
The first dimension is the Architecture of the question. This is determined by the opening word. As I already pointed out, certain words can lead to a short answer while others like "What," "Where," "When," and "How" invite a longer, more thoughtful response. Compare these two questions:
Do you like our team leader?
What are the qualities of a good team leader?
Vogt describes how these question starters could be put into a hierarchy from least to most powerful - though there is nothing absolute about where individual words might be on the hierarchy. The relative ranking of these words is affected by two other dimensions that Vogt describes.
Scope refers to the breadth of the question. How many people, how much time, or how much space is included? Consider these examples:
What is the most important thing you can do to improve the environment of your neighborhood?
What is the most important thing we can do as a nation to reduce our carbon footprint?
The second question is more powerful because it encompasses a larger group and a more comprehensive concept. But, depending on the context, the first question might be more powerful for a particular individual. Context, however, brings up the third dimension of powerful questions which is Meaning. Here are two examples:
How can we protect ourselves from cyber attacks by the Chinese?
How can we collaborate with the Chinese to increase cyber security?
Powerful questions that focus on meaning also challenge mental models and basic assumptions. They bring people to a deeper level and encourage a more creative response to what could otherwise be a "complaint" or "blame" session.
The next time you need to get to the bedrock of an issue, consider modifying your inquiry by altering the Architecture, Scope, or Meaning to make your questions more powerful. Then with other readers.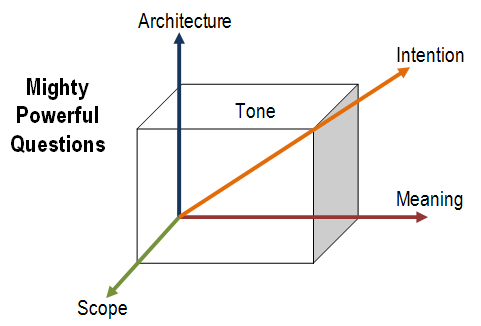 Mighty Powerful Questions
Considering the three dimensions of a question to make it more powerful is an obviously useful tool. Even just becoming more aware of a question's architecture can help diffuse an emotional situation and help people focus on what will make a difference or solve a problem. Powerful questions can spoil the blame game in mid-court.
It also seems that we could consider additional dimensions that affect the power of a question. For example, there is Intention. Why are we asking our question; what is the reason behind it? Do we want to measure a person's understanding, provide information, seek agreement, inspire creativity, solve a problem, satisfy our curiosity, or make our own point? Usually intentions like these are positive but there are also negative reasons for asking questions such as staying in control, putting someone down, or provoking a confrontation. The 99-Word Story reveals that any answer can become a small piece of the puzzle that a question might be trying to solve. And that's all the more reason to be clear about your Intention.
Another dimension to consider is Tone. Listen to a question over the phone and you'll know much more about the speaker's Meaning and Intention than if you read the same question in a text message. Tone can convey curiosity, disbelief, accusation, alarm, and humor among many other emotions.
My observation is that when we have a burning question, we are focused on asking it. We rarely worry about whether it will smolder and die or light a fire under someone. But by considering more than one dimension of a query, we can ignite a spark for deeper dialogue.
Here is a summary of the dimensions of Mighty Powerful questions:
Architecture - Discourage single-word answers
Scope - Circumscribe the people, place, or time
Meaning - Reconsider mental models and assumptions
Intention - Consider the purpose of the question
Tone - Create consistency between intention and emotions
If you are able to identify other dimensions that can make a question more powerful, please !
Supercharge Your Questions
Here's a powerful activity to help your team boost the power of their questions. There are two parts to the activity. The first provides practice in writing questions that vary along the five dimensions of powerful questions. The second part is an opportunity to practice asking questions that will generate different intentions and emotions.
Begin with a question - preferably one relevant to your team - or you can use this one:
Does the retirement of the Baby Boom generation over the next ten years pose a problem for businesses and organizations?
Match people with a partner and challenge each pair to rewrite the question along one of the five dimensions so that it becomes more powerful. Invite each pair to share their revised question and follow up with a discussion:
Which questions surprised you?
Which questions are most powerful?
If we were to combine changes in more than one dimension, which would those be and why?
How might you decide which dimensions to change if you wanted to make a question more powerful?
When would you especially want to make sure you asked a powerful question and when might it not be that important?
What different advice about asking questions would you give to a team member, a coach, or a manager?
Next, ask people to work again with their partner. This time, have them ask their partner a question several times but, with each repetition, the questioner should emphasize a different word of the sentence. Let each partner ask a different simple question such as
"Who did you go out with last night?" or
"What did you do to complete the project?"
Both questions have eight words so they can be asked in eight different ways.
After pairs have completed the task, lead a short discussion.
What different emotions were communicated during the eight repetitions of your question?
Which repetition of the question had the most surprising impact?
What similar situations came to mind as you heard different words emphasized?
How does the emphasis of different words change the emotion and intent of the question?
What was a time you communicated the wrong message because you emphasized the question incorrectly?
In what types of situations are you least likely to consider the effect your tone will have?
Try this activity then how your group reacted to the possibilities inherent in supercharged questions.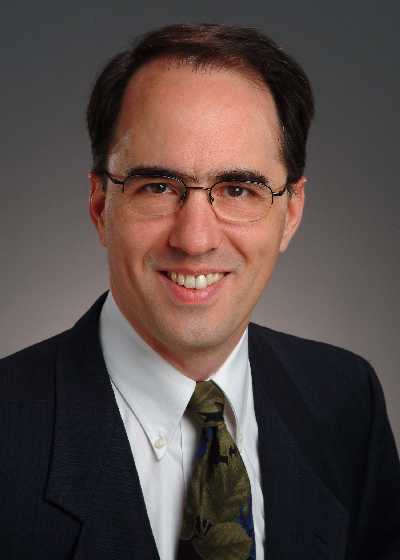 If you like what you have read in this issue, I would like to bring the same innovation, creativity, and playfulness to your next meeting or learning event.
Whether you need a keynote speaker, or help with strategic planning, performance improvement, or training facilitators and trainers in your organization, I look forward to your call (802.257.7247) or .
-- Brian
Read previous issues. Click Library!
To add or delete your name to our mailing list, email with a short note in the subject line.
I want this newsletter to be practical, succinct, and thoughtful. If you have suggestions about how I can meet these criteria, please let me know! Send me an with your thoughts and ideas.
Home | Services | Products | Mission | Ideas | The Group | The Buzz
(c) 2013 The Firefly Group