Register Today
Greater Boston
September 25, 2014
Cost:
$300 ($200 Non-profit)
Includes continental breakfast, lunch, and afternoon break.
Questions:
802.257.7247, or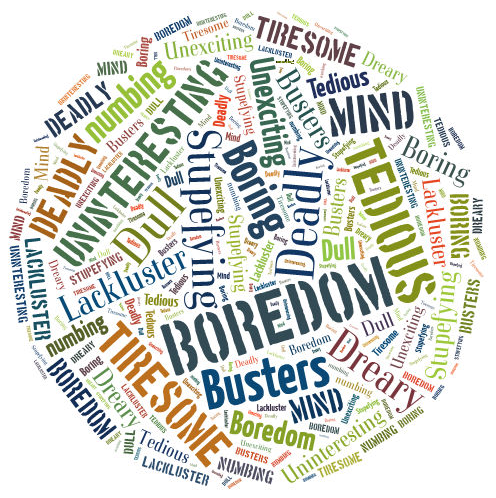 Boredom Busters
Boosting Engagement in
Meetings and Trainings

Greater Boston Area
September 25, 2014
Special Offer
Register before September 1 and
receive the eBook "Talk Quick" FREE
Description:
Distracted expressions, dull responses, drooping eyelids, you've seen boredom and it's not pretty - nor is it productive! Lack of engagement is perhaps the biggest impediment to effective teaching and extraordinary meetings.
Yet you can increase enthusiasm, jumpstart creativity, expand problem-solving, and improve retention of information in every meeting and for every subject you teach. How? Focus on the four basic reasons for calling a meeting. Link those meeting elements with the four needs we all share that drive commitment and performance. Then watch enthusiasm grow.
Whether you lead meetings, facilitate training, or only give the occasional presentation, this workshop will provide practical techniques to maintain attention, increase involvement, and improve retention. Using active learning, you'll experience firsthand how to increase motivation, commitment, and involvement of participants. Attend this workshop and walk away with practical techniques you can use tomorrow to bust boredom wherever you find it.
Event Details
Goal: to identify and adapt strategies for engagement that can improve participation and performance

Objectives: Participants will…
Compare and contrast two theories about motivation in work and learning
Identify at least three types of activities that boost engagement in meetings and training
Adapt at least one engagement activity for use in their own work setting
Who Should Attend: People who want to share information, teach new skills, or improve meeting efficiency such as…
Human Resource Professionals
Trainers
Team Leaders
Managers
What You Will Learn:
Cost:
$300 ($200 Non-profit)
Includes continental breakfast, lunch, and afternoon break.


Questions:
802.257.7247, or
Cancellations:
Your registration is refundable through the end of business on September 15. After that it is not. However, if your schedule changes, you are welcome to send a substitute to the workshop instead. Thank you.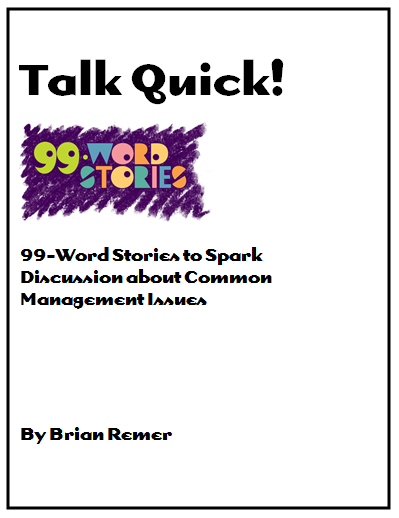 Special Offer:
Register before August 15 and receive the eBook "Talk Quick!" FREE
Talk Quick! 99-Word Stories to Spark Discussion about Common Management Issues is twelve activities for teams and small groups. Each activity begins with a story in exactly 99 words with discussion questions designed to bring group conversations to a deeper level. An interpretation of each story is also included to highlight issues relevant to organizational life, productivity, and systems thinking. The stories are cross-referenced for topics such as Change, Coaching, Diversity, Goals, Motivation, and Success.
This eBook is designed to be read on any computer and its format has been optimized for tablets and smart phones.
Presenter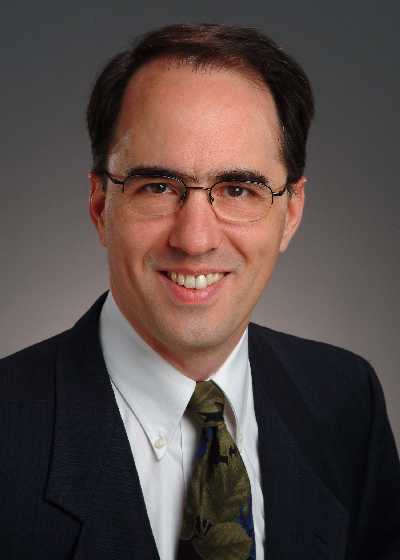 Brian Remer, Creative Learning Director of The Firefly Group, is a designer of interactive strategies for training, facilitation, and performance improvement. With a B.A. in psychology and an M.A. in Intercultural Management from the School for International Training, he has worked with businesses and organizations in Egypt, Ecuador, teh Democratic Republic of Congo, and throughout the United States. He is the recipient of a lifetime achievement award from the North American Simulation and Gaming Association and the author of Say It Quick! 99-Word Stories About Leadership, Learning, and Life. Through the application and demonstration of experiential education techniques, Brian designs a learning environment that blends action, reflection, and theory for a low pressure, high impact training experience.
Sponsor
The Firefly Group - Since the successful facilitation of a regional trainer's conference in 2004, The Firefly Group has provided consultation in leadership development, group facilitation, performance improvement, strategic planning, Instructional Design, and training of trainers. We use methods that are collaborative, interactive, enjoyable, and outcome-focused. Our goal is to ignite a spark of performance improvement in you and your organization. Learn more at www.thefirefly.org.
What People Say about Brian Remer and Boredom Busters:
"I really enjoyed getting to experience the engagement activities instead of [just] hearing about them."

"I liked the engagement - learning by doing and understanding that meetings and trainings are similar."

"I liked the tangible nature of the activities we participated in. They kept us engaged and provided us experience with the activities."

"Participatory, endlessly interesting, instantly applicable both personally and professionally."

"I think the reason you're such a good teacher is that you give the impression that you're learning from your students, that the adventure is mutual. That's a great gift."

"I enjoyed having an instructor who was wonderfully low-key, not a "know-it-all."
Home | Services | Products | Mission | Ideas | The Group | The Buzz
(c) 2014 The Firefly Group