Your ETR (Estimated Time to Read): 12 minutes
Your ETII (Estimated Time to Implement Ideas): 5 weeks
November 2010
In this Issue:
Readers' Response: More Ideas about Attention
How much do you really know about other people's opinions? How deeply do you usually share about your own? This month I'd like to explore these questions beginning with this 99-Word Story:
First Amendment
Bumper stickers are a popular medium for sharing ideas: free speech, self expression. People state their passions and reveal bits of their personality, politics, and sense of humor. Whether clever, contemplative, or caustic they invite tailgating for curiosity's sake.
But I can't help wondering. What does a yellow ribbon mean for her, exactly? What does a peace symbol signify for him? The catchy phrases accelerate and disappear before one can formulate a follow up question.
Like a TV commercial or a politician's sound bite, bumper stickers allow us to play hit and run with important social issues.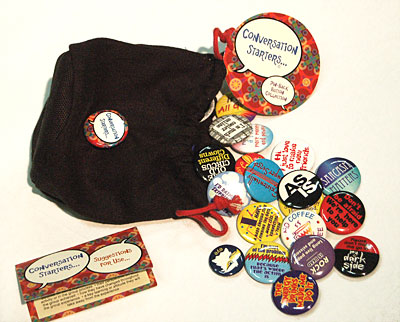 Conversation Starters:
Pin-Back Button Collection
Bumper stickers, sound bites, Facebook, Twitter, 99-Word Stories. Examples of the quick opinion abound! And while quick is clever and may even get the message across, it's the chance for a follow up question that leads to an interesting encounter.
We probably let too many chances for a meaningful conversation "drive by." And there are probably good reasons: being busy; wanting to avoid controversy; not noticing an opportunity; or even reluctance to change our own opinion.
But being able to engage in a substantive conversation helps strengthen relationships which can lead to solid friendships, better teamwork, increased productivity, and expanded creativity to name just a few outcomes. That's why I like this collection of pins with quirky quips and eyebrow-raising comments.
Distribute them to participants in a training, meeting, or party. Then invite people to use them to spark essential conversations with others in the room. Each button is large enough to attract attention but small enough that you need to be close to read it. Close enough, too, to have a conversation!
With buttons like …
Help! I think I'm a rock star.
I'm one epiphany short of a paradigm shift.
We can do it!
Please don't make me go to my dark side.

…. you can promote important moments of sharing with a touch of humor.
With fifty buttons in a convenient cloth bag, Conversation Starters can be easily carried to any event. Suggestions are included for using the set to break the ice, make introductions, process an activity, or plan for future action steps.
Conversation Starters are available from Experiential Tools. Learn more about both in the following interview with their creator, Jennifer Stanchfield.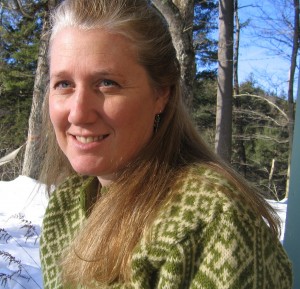 21st Century Skills: An Interview with Jennifer Stanchfield
Jen Stanchfield is known for her work in helping schools and organizations use experiential methods to promote learning and community building. She is the creator of Conversaiton Starters, and author of Tips and Tools: The Art of Experiential Group Facilitation.
Firefly News Flash: How would you describe yourself and your work?
Jennifer Stanchfield: I have a passion for helping people learn from interacting with others, solving problems, experimenting, and engaging in individual and group reflection. I work with counselors, teachers, youth-workers, coaches, and trainers, anyone trying to create change and growth in people or groups. An underlying philosophy of my work is the theory of experiential education and the idea of being a "participant-centered" teacher or facilitator.
FFN: How did you become interested in experiential education?
JS: As a child my family moved around a lot and I experienced many different schools. My first few years of school I attended two different Montessori programs. These experiences were in great contrast with my more "traditional" public school classroom experiences throughout the rest of my schooling.
In High School I took part in an adventure program that was life changing for me. This empowering experience emphasized the difference between my "traditional" educational experiences in formal classroom settings and field experiences. Through this program I gained a sense of self-reliance and confidence, and learned communication and problem-solving skills.
I began my college career studying special education. Then I discovered recreational therapy and the idea of using activities to teach and help people explore and work through problems and practice coping skills. I ended up with a dual major in recreational therapy and outdoor education and was first introduced to the philosophy of experiential education and the work of John Dewey.
As I worked professionally in the mental health and public school settings as a recreational therapist, teacher and challenge course facilitator I became even more interested in the philosophy of experiential education.
I pursued a graduate degree in the field. At that point studying the work of John Dewey and others in addition to Taoism enriched my work as a practitioner. I am especially excited now about the new research on the brain and learning and how that information validates some of these ideas about experiential education first put forward so many years ago.
FFN: What is your favorite activity as a facilitator?
JS: I really think beginnings and endings are very important. I like to have a great activity to start off a group- from the moment people enter the room and then an activity at the end of a program to "tie it all together". Oftentimes I use the same activity for both purposes.
To start a group I place an assortment of objects, or postcards, quotes, or pin-back buttons for people to choose from as they enter the room.
Depending on the goals of the program, I might ask group members to choose a postcard that represents their goal, or an object (from my mini-metaphors, or a my toolbox collection) that represents a strength they bring to the group. The pin-back buttons and quotes are great for starting this kind of reflective conversation.
At the end of a program it can be interesting to come back to the introductory activity to see how the group has progressed or how individual perspectives or goals have changed.
I like these object and image based activities for many reasons:
Often people find it easier to share when they can attach their thoughts to an object or image
The reflection can become more metaphorically rich than with conversation alone
This method is "participant centered" by putting more control upon the learner for interpreting their experience, feelings, or goals rather than the leader directing and possibly inserting their own interpretation or agenda.
This opens up a spontaneity of experience and possibly a deeper connection to the experience and relation to real life.
Recent research on the brain and learning suggests that when people can attach thoughts or key concepts to a metaphoric image they may retain it longer.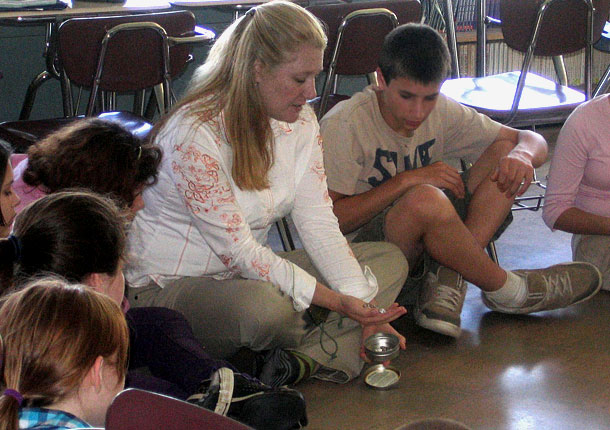 FFN: Describe one of your favorite ways to lead a discussion or debrief an activity.
JS: After the group has completed a lesson or problem-solving task, I place a whole set of the postcards, charms or a number of objects out in front of the group. I then ask them to choose one postcard or one object together that best represents what they achieved as a group.
Sometimes halfway through a program I will ask them to come to agreement on three cards or objects that represent where they started as a group, where they have gone so far, and where they hope to go next.
This method builds consensus. Participants are drawn into the task of choosing and are often unaware they are processing. Often group members share profound insights about the group experience as they discuss their choices to the group.
FFN: How does an experiential approach to education fit in with public schools where the emphasis has become more and more on achieving standardized test scores?
JS: An experiential approach teaches what many are calling "21st Century Skills" such as critical thinking, problem solving, and communication.
FFN: Why do you think so many people are quick to rely upon a lecture or PowerPoint format for their teaching or training? What advice do you have for someone who is hesitant to use experiential techniques in their teaching or training?
JS: Often facilitators are afraid of losing control of a group. They feel they need to be the "expert". They have difficulty trusting the group process and worry that they might not meet program goals.
I encourage facilitators to empower their group, to take a step back, allowing the group members to step forward and take more responsibility for their learning.
I encourage hesitant educators to experiment and try just a few techniques at a time. Typically they are amazed at what happens within a group when they take a step back from their more directive approach and implement more experiential methods.
Other facilitators perceive that they have to put on a big show to engage a group. There are some very successful charismatic "big personalities" in the training field. People think they need to have this kind of personality to be an effective group leader. I don't think this is true. The most effective leader is one who embraces their own style and learns how to harness the knowledge and energy that exists in their group. A famous Taoist quote emphasis the power of this kind of leader:
A good leader inspires others with confidence; a great leader inspires them with confidence in themselves.
FFN: If you had to go to a desert island for your next training event, what three essential supplies would you take with you?
JS: As much as I love "stuff" like vintage items in my toolbox, my postcards, or charms, I think being able to "make do" with what you have can bring opportunity in itself. Lately I have really been enjoying activities that involve very few props such partner handshakes or concentric circles. So, I would try to rely on what was there.
There must be some interesting "stuff" washed up on the shore of a desert island!
Learn more about Jen Stanchfield and sign up for her blog at Experiential Tools.
Ships that Pass in the Night
Each of us has so many facets to our person-hood that may not be revealed even between those who have known each other for years. Discovering these different dimensions is can help keep long-term relationships healthy, interesting, and fun. Here's an activity that's especially good to do with someone you know well - or think you know well!
You and your partner each pick four pin-buttons:
a) The one you would most like to wear,
b) The one you would least like to wear,
c) The one that that you think best fits your partner, and
d) The one that that you think least fits your partner.
Spend a few minutes explaining your choices one pin at a time. Were you surprised by any of your partner's choices for a) or b)? How do you feel about your partner's choices for c) and d)?
Next, what does your combined choice of buttons say about your relationship? Do you feel you know each other well or are there ways the two of you are like ships passing in the night? What would you like to do more of in your relationship?
Last, agree upon one button to represent your relationship.
If you don't have a bag of Conversation Starter buttons, get creative! Crack open some Chinese fortune cookies or page through the comics of the Sunday paper and choose a character to fit your partner's personality.
If you try this activity with a colleague, friend, child, or partner, please the result!
More About Attention
This is for Jason Barnaby--tips to focus on one's level of attention:
For cell phone as reminder tool: choose a special ringtone that you designate as your attention reminder. Or splurge and (gasp!) purchase a ringtone--something I have not done yet--but anything's possible. Then set it for random times.
Better still, learn to do it like a habit. Read Mindsight by Daniel Siegel. This one led me to Your Brain at Work by David Rock and The Brain That Changes Itself by Norman Doidge. When you discover the stunning potential of neuro-plasticity, that the mind is shaped by what we pay attention to, it makes you much more mindful of where you invest your thoughts. All three are eye openers, brain expanders and are certain to increase your mindfulness. They did mine!
--Jan Sage
Read previous issues. Click Archives!
To add or delete your name to our mailing list, email with a short note in the subject line.
I want this newsletter to be practical, succinct, and thoughtful. If you have suggestions about how we can meet these criteria, please let us know! Send us an with your thoughts and ideas.
Home | Services | Products | Mission | Ideas | The Group | The Buzz
(c) 2005 - 2010 The Firefly Group