Your ETR (Estimated Time to Read): 5 minutes
Your ETII (Estimated Time to Implement Ideas): 5 weeks
October 2010
In this Issue: Feedback from Readers: What to Watch
Sometimes our words have an impact we never intended. In this issue of the Firefly News Flash, we'll discover some unique ways of visualizing the impact of words beginning with this example of the problem in just 99 words.
Too Much Talk!
I was having a heart to heart conversation with my daughter. About to enter her teen years, I knew she would benefit from my reflections of how to survive those troubling pubescent times.As I revved up for a helpful review of my main points, I looked over in her direction.
She was staring into the middle distance with glazed eyes and slouched shoulders. She'd been turned off. I'd been tuned out.
Too much of a good thing had become another lecture. Less is more. I wish I'd shared my sage advice in only 99 words!
Tagxedo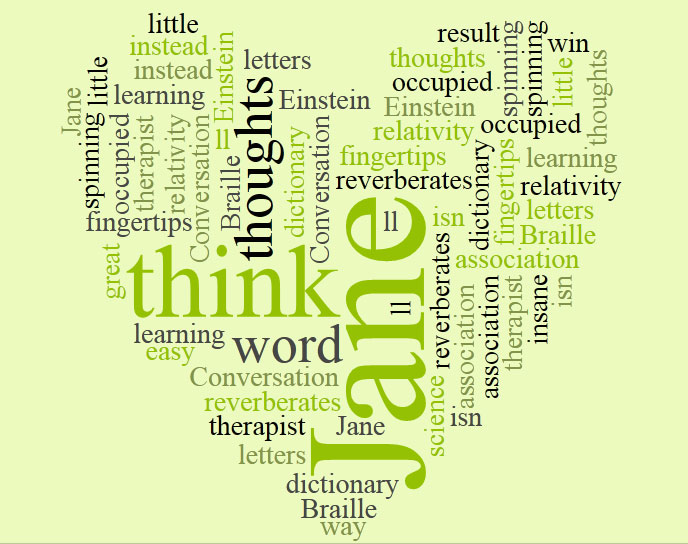 A picture is worth a thousand words and a picture made completely out of words is both beautiful and worth talking about. That's the gist of this month's Discovery suggested by Jose Ochoa of Madrid, Spain. Jose was inspired by the lyrics from Dan Bern's song Jane, referenced in last month's issue about attention, to make a word cloud using Tagxedo.
Word clouds evolved from the efforts of web developers to create a visual representation of the frequency of tag words in a document. There are many word cloud generators that are free as well as those for subscribers. Some, like Tagxedo and Wordle (which I have used in other issues of this newsletter) offer many options for customizing the cloud as a work of art. Others like Wordsift (http://www.wordsift.com/) take a more grammatical perspective providing links to synonyms and images for the purpose of strengthening writing skills.
I have more experience with Wordle but I've become a quick convert to Tagxedo which has so many more options for customizing a word creation. One of the most interesting is the ability to import a graphic like a portrait or logo which acts as a stencil for the word cloud pattern. The Tagxedo site also has a presentation with 101 ways to use a word cloud - a great inspiration for anyone who, in addition to reading them, loves to look at words.
| | | |
| --- | --- | --- |
| | Tagxedo | Wordle |
| Fonts | 34 with options to add more | 30 |
| Color Themes | More than160 plus add and customize | 15 |
| Layout | Horizontal, Vertical, Both, or Random | Horizontal, Vertical, Both, or Random with options for round or smooth edges to the cloud |
| Saving | 5 Options | Print or Save to Gallery |
| Shapes | 50 Options plus add your own | XX |
| Printing | Print on a T-Shirt | XX |
| History | Experiment with different designs but still find that one you really liked 10 minutes ago | XX |
| Extras | 101 Ways to use Word Clouds | XX |
Read a brief review of several other word cloud generators here: http://21centuryedtech.wordpress.com/2010/02/28/waiting-for-wordle-free-word-cloud-options-to-use-now/
Open Space Thinking
As the 99-Word Story this month suggests, we can easily become carried away with talk. Our words, as they spill from our mouths, take on a life of their own with results we may not have intended. One way to address this might be to use fewer of them!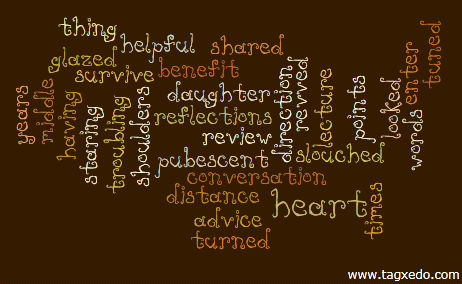 Though it can be difficult to do that in real time when emotions and urgency are also strong factors, writing is a different story. If you examine this word cloud created in Tagxedo from "Too Much Talk!" (the 99-Word Story selection above) you'll notice most of the words have the same weight. This reflects the careful attention to word usage needed to write in just 99 words. If you aren't using many words, you tend be choosy!
Tools like Wordle and Tagxedo make it easy to analyze the impact of written words. Visual representations of text can show frequency of words used and reveal the underlying emphasis of the text. Create a word cloud of a news article or a speech and with a quick visual scan, you get the gist of its overall theme.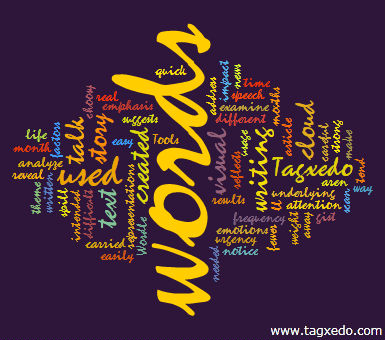 Or, if you're stuck without a muse, look at your writing in a completely different way. Here's a new perspective, with new inspiration, from the previous three paragraphs. The repetition of vocabulary actually makes the graphic more appealing.
It's interesting to consider how words take up space. Spoken, they can fill an awkward silence or crowd out the thoughts of a careful thinker. Written, they can cover the page leaving only a slim margin while metaphorically they might also fill the mind. As a cloud, words and the spaces around them contribute to one harmonious design. For me, it's a helpful reminder to use my own words in a way that opens more space for the words and ideas of others. When that happens, I usually learn something too!
If these ideas have opened some space for your thoughts, I hope you'll what you've learned!
Making Words Work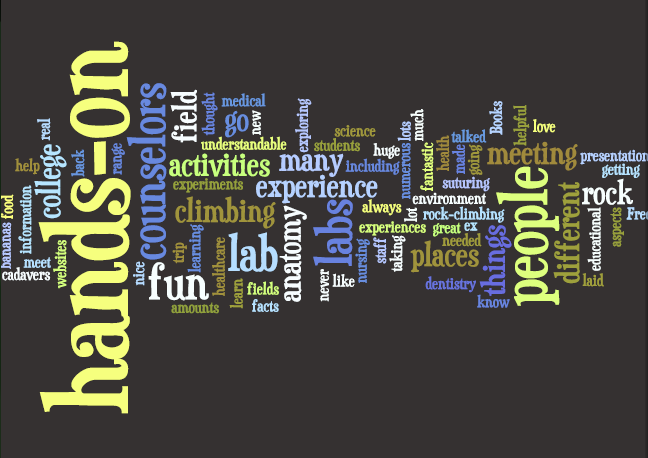 Play with word clouds yourself and you will probably invent more than one way to apply them in your own setting. After seeing word clouds from the last issue of the Firefly News Flash, Jennifer van Stelle shared how she uses them for evaluation.
She writes, "Here's a word cloud I made last year, showing students' favorite activities in UCSF's three-week experiential summer program for high school juniors interested in exploring careers in science and health care. As you can see students' most favorite activities were hands-on (often in the lab), or relational (meeting people)."
In my own work, I was recently asked to help a church group reflect upon their accomplishments from the previous year. Here's how I incorporated the use of a word cloud into the day's activities.
Each person was given four blank cards and asked to write what they thought were the most significant accomplishments, one per card. All the cards were collected and redistributed randomly to all participants. People were then asked to mill about the room reading each other's cards and trading when they wished to get four cards they felt were the most important achievements.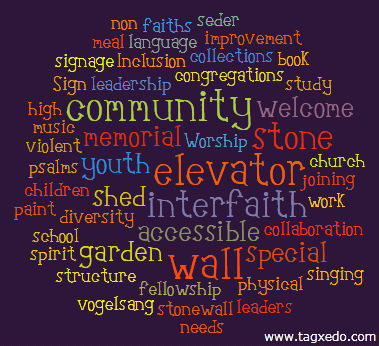 Next, people organized themselves into groups of four to six and, looking at all their group's cards, they selected three as the most significant achievements for the year. Groups shared these with everyone.
While people worked on the next task, making a collage to represent projects for the future, the notes about their achievements were fed into Tagxedo. In a few minutes, I was able to project a giant, colorful graphic representation of the past year on the wall. As you might guess, the effect was both dramatic and satisfying.
If you use word clouds in an interesting way, please them and describe the results!
What to Watch
In the last issue about how we focus our attention, I suggested putting your watch on the opposite arm to remind you to stay focused. Here's another related idea:
The watch experiment is an interesting one. My problem, though, is that I haven't worn a watch in over 10 years--since I started carrying a cell phone full time. In fact, I heard recently that one way you can tell someone is "old" is if they still wear a watch. I'm almost 40 and I have noticed that not many in their twenties and thirties are wearing watches.

That prompted me to think how I could do this with a cell phone. I was thinking that maybe I could change the back ground of my phone and that would prompt me to become aware of my thoughts. I also thought that I could use an app to put a note on my phone's "desktop" instructing me to focus on my level of attention.

I think this might be an interesting question to post to your readers as well. How could you do this if you don't wear a watch? Thanks again for your newsletter and have a great day.
-- Jason Barnaby, Indianapolis
Do you have an idea for Jason? Share it .
Read previous issues. Click Archives!
To add or delete your name to our mailing list, email with a short note in the subject line.
I want this newsletter to be practical, succinct, and thoughtful. If you have suggestions about how we can meet these criteria, please let us know! Send us an with your thoughts and ideas.
Home | Services | Products | Mission | Ideas | The Group | The Buzz
(c) 2005 - 2010 The Firefly Group