Your ETR (Estimated Time to Read): 5 minutes
Your ETII (Estimated Time to Implement Ideas): 5 weeks
October 2008
In this Issue:
Say It Quick
If I'd discovered Dove Chocolates sooner, I'd have offered one to Carol who was the inspiration for this month's 99 Word story!
A Crumby Day
A casual, "Hello," to Carol got me an earful! The day was still new but she was already out of sorts. "I hope it gets better because it's lousy so far!" She explained that her husband had left crumbs all over the stove simply because they were part of a mess he hadn't made. "I don't need another irresponsible child in the house," she declared.
How sad to let a few crumbs spoil your whole day. But that happens when we don't realize that a little problem is really a metaphor for a much bigger issue.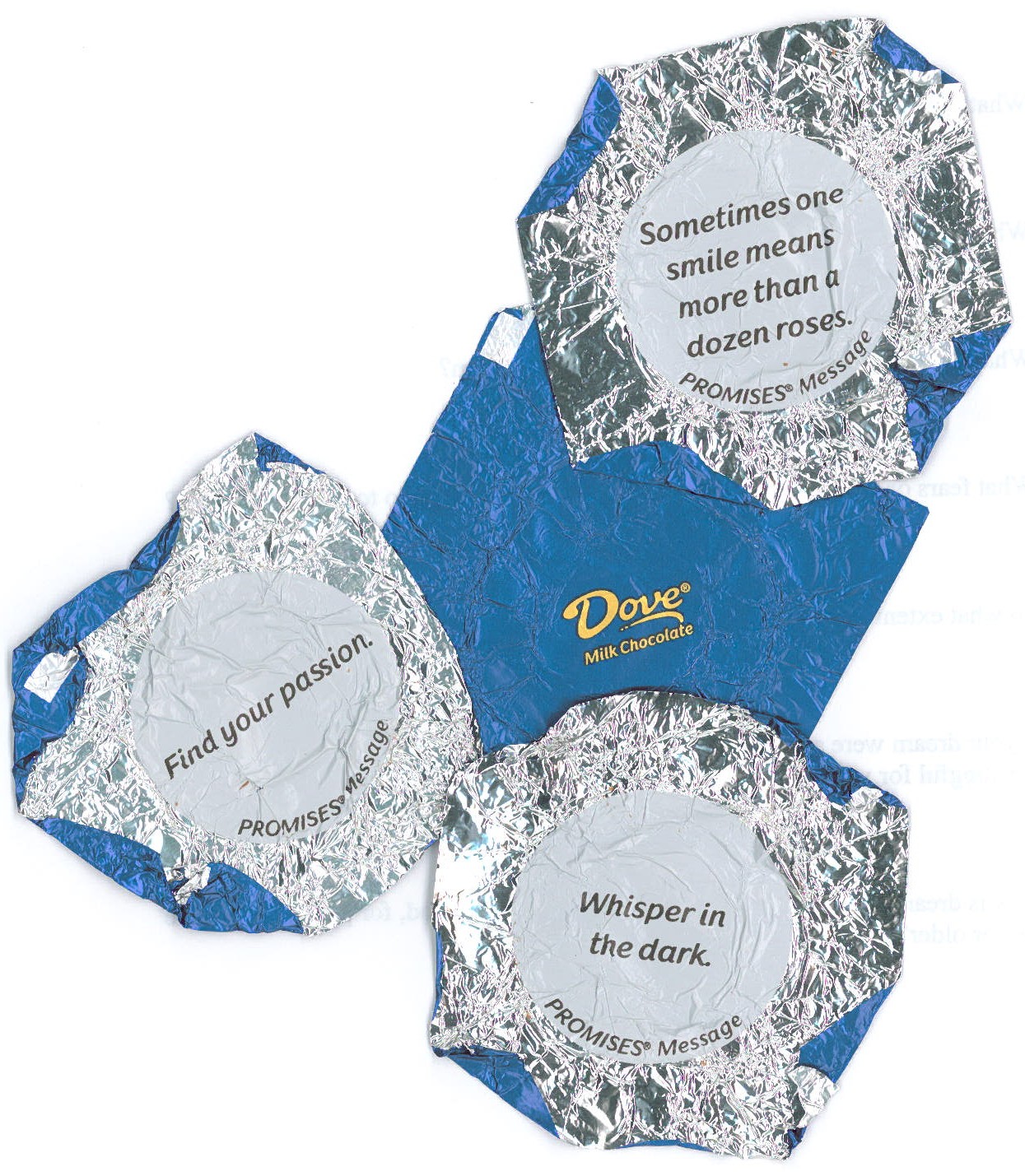 The Taste of Success
Bring a bag of Dove Chocolates to sweeten your next meeting. But don't bring them just because of their wonderfully smooth, rich flavor or their energy-boosting sugar effect. Bring them for their wrappers!
That's right! Each chocolate has a different, positive message printed on the inside of the foil wrapper. And you can use those messages to inspire participants, spark a brainstorming session, or review important content from your meeting.
Recently, I used this technique for three different meetings the same day. At the first, managers used the Dove messages to express their expectations for a new training initiative. Later, a group of nursing professionals made connections to the challenges they face caring for medically fragile children. At day's end, leaders of a small church redefined the challenges they face by linking them to more positive opportunities.
To get similar results, simply pass out the candies and ask everyone to make a connection between an important topic of the meeting and the message they find. You'll be surprised at the insights people are able to share and your participants will be delighted both with the chocolate and their own ideas!
Worried about tempting someone off their diet? Relax, no one has to eat the candy, just ask them to take a peek at the message inside the wrapper. Will people always be able to make connections? Yes! Perhaps not everyone, but most everyone will. If you don't feel confident, open a candy ahead of time and be prepared to model the type of response you'd like to see.
Dove candies come in dark and milk chocolate plus other varieties and can be found in grocery or drug stores. Give them a try then, let me know what sweet successes you've tasted!
Inventing a Metaphor
Perhaps it's a bit corny to look inside a candy wrapper for deep insight. If you are expecting divine inspiration, I would agree. Stick to the time-honored texts of the spiritual movement of your choice! But if you want to add a bit of inspiration, give people a memory hook, spark a creative discussion, or enliven the conversation then a wrapper is just fine.
In The Taste of Success, we are making strategic use of metaphors. With any analogy, you can invent it yourself or ask participants to invent their own. Either way is fine but the effects are different. Invent the metaphor yourself, and you have more control of the resulting discussion and learning. Ask participants to invent the metaphor and they own it - and, they keep it! In fact, many people will even slip their foil wrapper into a pocket. When they find it again, they've got an instant reminder of a meeting or even the events of a whole day!
Ensure your success by setting a positive tone. Begin with confidence, expecting the best from your participants. You can even explain that you are doing this activity to take advantage of the brain's extraordinary ability to make associations that might otherwise be elusive without a kick start. If people seem resistant or skeptical, model the type of response you'd like to see. Then trust the process. You will always get at least a few great responses, which may be just the level of new insight the whole group needs!
Looking for Words of Wisdom
What other opportunities exist for inspiration, a chance to pause, or an occasion to think more deeply? Are there ways you could use The Taste of Success personally?
Here's an experiment you can try. The next time you're stuck for ideas, discouraged by a situation, or at a loss for words, spend a moment or two thinking about your concern. Then read a wrapper and challenge yourself to new thinking. If you can't find a connection right away, come back to it later or ask a friend what links they can see. Collect wrappers in a box and pull out two or three at once so you can choose the best or look for multiple analogies. Write a few notes about your ideas or keep a journal. Stick your most inspirational wrappers on poster board and connect them with pictures to make a thought map.
You don't need to be content with chocolate wrappers either! Words of wisdom can be found in many common but unlikely places: the tags of tea bags, bottle caps from natural juices and some beers, books of proverbs, or search the web for quotations and cross-cultural sayings. Fortune cookies are my favorite. You can buy bags of them at most Chinese restaurants. Read a copy of my activity, Confucius Says…, which explains how to use this after dinner treat for added "crunch" in your next workshop.
I hope you'll try this experiment! When you do, please what wisdom you find and where you found it.
Read previous issues. Click Archives!
To add or delete your name to our mailing list, email with a short note in the subject line.
We want this newsletter to be practical, succinct, and thoughtful. If you have suggestions about how we can meet these criteria, please let us know! Send us an with your thoughts and ideas.
Home | Services | Products | Mission | Ideas | The Group | The Buzz
(c) 2005 The Firefly Group