Your ETR (Estimated Time to Read): 10 minutes
Your ETII (Estimated Time to Implement Ideas): 5 weeks

Read my new book

Say It Quick!
Interactive Techniques for Instructor-Led Training

Thiagi Presents in Albany, New York
Thiagi's popular workshop has been expanded to three full days: June 18-20, 2013. Spaces are still available and there is still time to register!

Day 1: How to Design and Facilitate Training Activities

Day 2: How to Design and Facilitate Different Types of Training Games

Day 3: How to Design and Facilitate Different Types of Simulation Games

Learn about Thiagi's seven-city US tour HERE.

Contact Thiagi directly to learn about "Interactive Techniques for Instructor-Led Training." To register for this event visit thiagi.com.

NASAGA has published a book!

From the acclaimed North American Simulation and Gaming Association, comes the much-anticipated The NASAGA Training Activity Book. This first-of-its-kind book offers a dynamic collection of ready-to-use games, simulations, and activities. With contributions from expert trainers, educators, and simulation and game designers, this highly accessible resource presents a variety of activities that address the most common issues that trainers are asked to tackle including:

Communication, Conflict management, Creativity, Customer service/sales/marketing, Decision making/problem solving, Multicultural issues, Organization development, Self-awareness/personal growth, Team building, Training of trainers

Available from Pfeiffer.
June 2013
Say It Quick
a thoughtful message in exactly 99 words

Discoveries
bits of serendipity to inspire and motivate
Ideas
fuel for your own continuous learning
Activities
tips and tricks you can try today
Ignorance Is...
Suspend
Hanging Out
Assumptions can get us in trouble but not if we let them hang out for others to see. Learn why beginning with this 99-Word Story.
Ignorance Is…
Our friend Laura took a job teaching in Spain and never left. She met a man in Pamplona, married, raised her children, and settled in as a member of his extended family. Her Spanish is fluent. She knows the local history and politics. She has visited every town in the surrounding area. She seems fully acculturated. Except she isn't.

"After 20 years, I still can't read the subtle social cues of class and status," Laura says, "And I don't want to! Brain surgeons, politicians, or fishermen, they're all just friends to me!"

Sometimes ignorance is a benefit!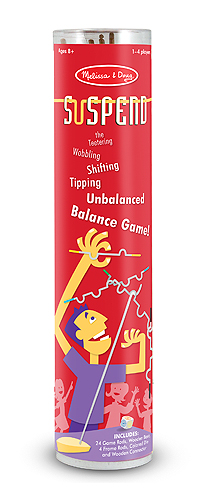 Suspend
by Melissa and Doug
A minimalist upright frame stands on the table. At the top, hanging from a hook, is balanced a thin metal rod. It's your turn to choose the next color-coded rod to suspend from the growing sculpture. Will you hang it successfully or will adding your rod tip the whole contraption out of balance?
That's the challenge of Suspend, a table-top game by the manufactures Melissa and Doug. Though most of the games from this company are intended for a very young audience, Suspend is a fun challenge for people of any age who want to test their dexterity.
Typically, players role a die to determine which rod to hang on the construction. The goal is to hang all your pieces without causing others to fall. But it's not as easy as it sounds. As soon as you place one piece, the center of gravity shifts and the rods swing around each other as they find a new equilibrium.
The pieces invite the invention of new rules and other types of play. Suspend is a great solitaire game of dexterity as you experiment with different ways to combine the pieces. It's also fun to play with several people and award points based on the size of the pieces you are able to hang.
Suspend is the kind of toy that you never really put away. Either it's ready for the next game or it stands as a kinetic sculpture and conversation piece.
Search for it online or find it at Trainer's Warehouse.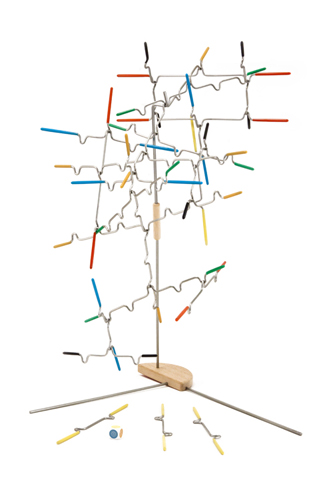 Holding Up Good Ideas
Among its many connotations, suspend can mean to hang or to hold up. It can also mean to stop, adjourn, or discontinue.
We suspend disbelief when we walk into a movie theater for the latest science fiction or fantasy flick. We suspend judgment when we agree to hear another point of view before deciding whether to agree or disagree. We suspend our assumptions, prejudices, habits, and cultural norms anytime we want to take a mental time out to consider the validity or relevance of another point of view.
In the Fifth Discipline Fieldbook, author Peter Senge describe the importance of suspending one's beliefs as a way to examine the lens through which we interpret the world. As Senge writes, suspending assumptions means actually hanging one's ideas up for the group to scrutinize their validity. By holding an idea up for examination, people can identify the context supporting it and decide its truth and relevance. It's an opportunity to reduce the emotional impact of a statement and identify the concerns, beliefs, and values that are connected to it.
The table top game of Suspend can serve as a metaphor to describe these attitudes. When someone places another wire hanger on the evolving sculpture, it is as if they are adding a new concept to the group's thinking. When new ideas are hanging out for everyone to examine from all sides, we can begin to see how they influence each other and how they interact as a whole.
With this new perspective we might ask several questions: Are we suspending our ideas so everyone can see them more clearly? Do we use our ideas to suspend the conversation and hold up the group's progress? Or, like Laura in the 99-Word Story, do we suspend our innate tendencies toward criticism and accept people with the intention of beneficial ignorance?
Hanging Out
Ever since I gave Suspend to my nephews last Christmas, I have been inventing alternative ways of using it for learning with teams and groups. Here are a few learning topics with lessons that the game can reveal.
Predicting - Before each piece is put in place, players describe what they think the outcome will be
Planning - Describe the process or sequence you would use to hang a collection of rods in a particular sequence then test your plan
Project management - Designate some players as users who describe the final sculpture they want; Other players figure out how to complete that project
Using skills of individuals - Distribute only one color of rod to each person; How well does the group use the individual qualities, skills, abilities of each team member? How does this relate to the real qualities and skills of group members?
Metaphors: Build a sculpture as a group then describe what happened in terms of…

Balancing priorities, skills, individual differences, or departmental needs
Management of time, projects, or outcomes "
Team processes and decision-making
Community building and collaboration
Suspending ideas, judgments, cultural assumptions "to hold out so others can see"

Systems thinking: Build a sculpture as a group then describe what happened in terms of…

Unintended consequences
Looking at the whole picture
Multiple perspectives
Exponential nature of change

Problem solving - Invite the group to talk about its methods for resolving tough issues
Decision-making - Give the group an opportunity to identify the best ways to make decisions
Change management - What strategies does the group have for dealing with a dynamic system that changes with every addition?
Teaching Agile design - What similarities are there between the short iterations involved in placing a piece, evaluating its effect, and the process of Agile design?
Competition v. Cooperation - What is the resulting sculpture and the effect on the play experience when you keep points individually? How does that change when you keep a cumulative, group score?
Creativity Tool - Invite your team to let their imagination freewheel…

How many different games can you play with Suspend?
What rules can you alter or invent to increase the challenge, make a longer game, or make it more fun?
Invent a game in which players deconstruct a sculpture
What if you had more playing pieces?
What if you could design new playing pieces?
What if you could combine it with a different game?
How many different ways can Suspend be used if it's not just a game?
If you try one of these ideas or invent another of your own, please don't hold anyone in "suspense." what happened!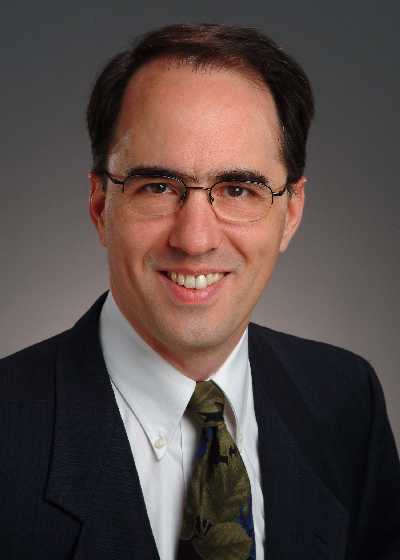 If you like what you have read in this issue, I would like to bring the same innovation, creativity, and playfulness to your next meeting or learning event.
Whether you need a keynote speaker, or help with strategic planning, performance improvement, or training facilitators and trainers in your organization, I look forward to your call (802.257.7247) or .
-- Brian
Read previous issues. Click Library!
To add or delete your name to our mailing list, email with a short note in the subject line.
I want this newsletter to be practical, succinct, and thoughtful. If you have suggestions about how I can meet these criteria, please let me know! Send me an with your thoughts and ideas.
Home | Services | Products | Mission | Ideas | The Group | The Buzz
(c) 2013 The Firefly Group