Your ETR (Estimated Time to Read): 5 minutes
Your ETII (Estimated Time to Implement Ideas): 5 weeks
July 2011
In this Issue:
It's not always easy to pause in our busy lives, pull out what's important, and remember what's essential. Fortunately, there are some great suggestions in this issue. But first let's identify the problem with this illustration in just 99 words.
Trash or Treasure
"Used bicycle parts - Some junk"
That's the label on a typical cardboard box in Ralph's garage. This barn beside his home where he has lived (and accumulated) for over 50 years used to have space for three cars. Today there is barely room for one. The building is stuffed with treasures only Ralph would value. Bent yard tools, charred clothes from a house fire, a child's kindergarten craft projects, boxed and labeled fill the space from floor to ceiling. You can find anything.
Unfortunately, it's not enough to be organized if you're still surrounded by junk.
Memory Beads
What if you needed to recall more than half a dozen steps in a process for a very long time - years, perhaps - and you never knew when you'd need to use that particular process? Would you trust your memory? Maybe you'd make a list. But where would you save the list so that you could pull it out at a moment's notice? It might be difficult to even remember having made the list in the first place!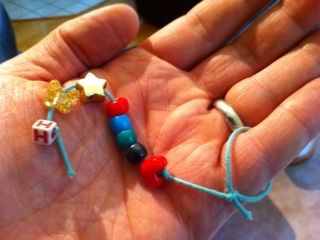 Perhaps you could tie your memory around your finger like a string and always have it "at hand!" That's the idea behind this month's Discovery. I watched Michele Deck, a Registered Nurse and educator from Baton Rouge, Lousiana, demonstrate this concept at her workshop at the Training 2009 Conference in Atlanta. To teach about the many things to remember during a disaster or emergency evacuation, she invited people to make a string of beads to represent the various details.
If you look at my own string of beads (which I still have after three years!), the bead with the letter "H" is a reminder not to rely on the phone to stay in touch; use text messaging instead. The next bead, a butterfly, is to help remember the needs for any pets. The star symbolizes the ultimate safe destination where you and your family have agreed to meet if separated. Red, like the Red Cross, is for medical safety: carry a supply of essential medications. Blue stands for water, the three gallons per person you'll need in transition. Green is for cash. Pack greenbacks because plastic won't work in a power outage. Black represents legal papers that you'll need to establish residency or citizenship. And, finally, the heart is a reminder of the friends and family members who are elderly or have a disability. Have you made special arrangements for their transport and care?
Of course, this concept does not need to be reserved for disaster education. I designed the beads in the photo below to help people remember the eight major categories of developmental assets. Developmental assets are the positive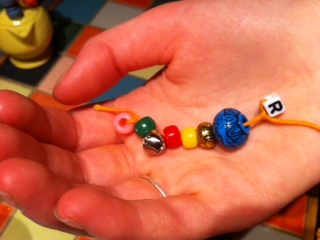 qualities and attributes that can help people, especially youth, handle stress and build resilience. The more assets a person has, the happier and more successful they can be in general.
Though there are 40 Developmental Assets as defined by The Search Institute, they can be grouped into those that are internal and those that are external to the individual. Within each grouping there are four categories. In my training, I teach people the following eight categories of assets then invite them to come up with examples that are more detailed. To help remember all this complexity, I use this breakdown of the assets and the beads that represent them.
| | |
| --- | --- |
| 40 Developmental Assets | Represented by… |
| External | |
| Support (Family support and communication, other adult relationships, a caring school and neighborhood) | Pink = Heart |
| Empowerment (Personal growth, service to others, safety, youth are seen as resources) | Green = Growth |
| Constructive Use of Time (Creative activities, religious community, youth programs, time at home) | Bell = Clock, Being on Time |
| Boundaries & Expectations (Family, school, andneighborhood boundaries, adult role models, positive peers) | Red= Stop Sign |
| Internal | |
| Commitment to Learning (School engagement, achievement, motivation) | Yellow = The Color of a School Bus |
| Positive Values (Integrity, honesty, responsibility) | Gold = Something of Great Value |
| Social Competencies (Cultural competence, conflict resolution skills, decision-making skills) | "Ethnic" or "Tribal" bead = Having Comfort with Ambiguity |
| Positive Identity (Personal power, self-esteem, sense of purpose) | An Initial of Your Name = Signifying You! |
Learning Beads offers an alternative to the brain clutter of Ralph's barn in today's 99-Word Story. From an educational perspective, using beads in this way capitalizes on tactile learning to enhance memory. And, as suggested by the fact that I still have the beads I made with Michele three years ago, they are also hard to throw away, forget in a file drawer, or store in the garage!
An Interview with Michele Deck
When I decided to write about Memory Beads, I had a few questions about their origin. Michele Deck, an internationally renowned presenter, author, and educator is the co-founder, President and Chief Executive Officer of G.A.M.E.S., a company that provides seminars for organizations and specializes in adult learning and interactive teaching methods. Here's our conversation:
Brian: Describe your work. What topics do you most often teach about?

Michele: I spend most of my time educating educators about creative and effective ways to teach their learners.

Brian: What was the genesis of your idea of using beads as a way to improve retention in your training?

Michele: I was born in New Orleans and Mardi Gras beads are an important part of the culture. I thought if I could create a set of beads that meant something, people would keep them and more easily remember the message of my training.

Brian: What reactions have you received from participants?

Michele: I have received positive feedback from learners since using it in my Disaster Readiness Program because people find the beads usable as opposed to a written handout they probably will not find in an emergency.

Brian: How do you explain why this technique is helpful as a memory aid?

Michele: It is a visual and hands on way to remember critical content.

Brian: What other topics have you used this technique for?

Michele: I have used it as a counting tool for best ideas learned in a session. After a half day of content, I'll give a small group a bowl of beads and have them pick beads that represent each of the ideas they gained. Some pick one or two, others take 10 or 12. They get to decide which type of bead represents each thing they learned.

Brian: Are there situations you would advise against using beads?

Michele: Even though it would work with all technical content, I would not use this idea at the FBI academy or with the Police sniper team because I have found they think this is too touchy feely for them as analytical, technical thinkers.

Brian: What are some other alternatives to a paper handout have you experimented with?

Michele: I have used whole brain organizers which are a visual grid with simple pictures used as a memory tool. We put them on index cards that people can keep in their pocket. I've also used mind map placemats.

Brian: What do you think is the key to engaging learners?

Michele: I think the key to engaging learners is to have them make emotionally relevant connections to what they learned and how they will use it in their lives. Application of content and skills to a person's own life is critical to learning.
To learn more, contact Michele Deck directly: GAMESInc4@aol.com
Quipus from the Incans
The ancient Incans, who lived in the mountains of South America, built a thriving civilization that was dependent upon a strong communication system. To maintain government, military, and commercial systems they needed to communicate reliably across steep mountains and deep valleys. Messages were "written" in the form of beads strung together to represent the communication. Runners would carry these strings of beads, called quipus, through the mountains from the king to his governors.
We can carry the concept of quipus from ancient times to today by making our own memory devices. The Activity this month is to apply the Incans' communication tool to something you are teaching or trying to remember. Simply list the steps of a process or make an inventory of things to recall. Then link a color or type of bead to each item and your sample so I can share it with other readers!
To spark your thinking, you can download a complete facilitator's guide for my activity about the 40 Developmental Assets for youth. Simply insert your own process or list with coordinating beads and you'll be ready to lead a thirty minute learning activity! When you do, please the result!
If you like what you have read in this issue, why not talk to me about bringing the same innovation, creativity, and playfulness to your next meeting or learning event.
Whether you need a keynote speaker, or help with strategic planning, performance improvement, or training facilitators and trainers in your organization, I look forward to your call (802.257. 7247) or .
-- Brian
Read previous issues. Click Library!
To add or delete your name to our mailing list, email with a short note in the subject line.
I want this newsletter to be practical, succinct, and thoughtful. If you have suggestions about how I can meet these criteria, please let me know! Send me an with your thoughts and ideas.
Home | Services | Products | Mission | Ideas | The Group | The Buzz
(c) 2005 - 2011 The Firefly Group