Your ETR (Estimated Time to Read): 5 minutes
Your ETII (Estimated Time to Implement Ideas): 5 weeks
February 2011
In this Issue:
In this issue you'll learn about a nuance of the creative process beginning with this 99-Word story about curiosity.
Ask Stupid Questions
"Why is the light switch in the hall outside and not in the bathroom itself?" Amused by the "obvious" simplicity of the query, our Basque friend replied, "To avoid electric shocks, of course!"
This is the beauty of cultural exchange. You get used to asking stupid questions. Then, back in your own culture, you continue asking questions that you would have considered stupid before.
Often, when new to a subject we are too ignorant to know what questions to ask. But when a subject is familiar, we know too much to consider asking questions at all!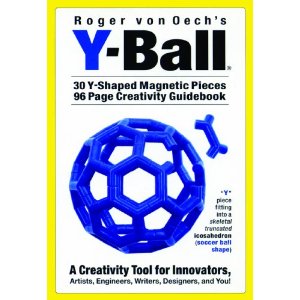 The Y-Ball
by Roger von Oech
It's a skeletal truncated icosahedron and even if you can't pronounce it, you'll definitely want to play with it. Just pick up the Y-shaped pieces and begin clicking them together at their magnetized ends. In moments you'll have in your hands a familiar structure of interlocking pentagons and hexagons and realize you've built a soccer ball!
The Y-Ball is the latest addition to Roger von Oech's collection of creativity tools and books which includes the A Whack on the Side of the Head, Ball of Whacks, and the X-Ball, to name just a few items. Like the Ball of Whacks and the X-Ball, the Y-Ball is a set of 30 magnetized pieces that can be used to construct an endless array of figures, shapes, and designs. It comes with a 96 page book with designs to copy, activities to stretch your creativity, and explanations that describe how the Y-Ball was created.
But the Y-Ball is plenty of fun by itself - without being the stimulus for your next brilliant idea. Pick it up any time you have an idle moment and have some fun. I keep mine on the living room coffee table where it provides relief from inane TV commercials. My desk is another obvious place - except I would probably find myself distracted by the Y-Ball's engaging possibilities.
Perhaps a warning is in order for this creativity toy: If you can put it down, be careful where you leave it because you'll soon find yourself drawn back by its magnetic possibilities.
Exploration and Chance
Playing with the Y-Ball is a constant exercise in creativity. Once in your hands, you'll find yourself participating in two important aspect of the creative process: exploration and chance.
Because the pieces can "snick" together in so many ways, you often end up making something you didn't expect. Garb two pieces and match them up just to see how many different ways they can stick to each other. Think you've got that figured out? Add another piece and see how the connections and dynamics change as the magnetic polls attract and repel in unexpected ways. Make a series of shapes from four pieces. How will these clones connect? Soon you've invented a surprising, new object or perhaps you are looking at a previous creation from an unexpected angle! Whatever happens, eureka! The Y-Ball invites exploration.
If your intention is to recreate a specific shape, you may easily become distracted from your goal. Connect several pieces and you might discover they didn't match up the way you expected. But the shape they snapped into is still intriguing and suggests a different idea you'd like to try. Pursue that new avenue and you'll likely find you have turned down a previously unseen alley with unexpected possibilities. Chance encounters and linkages have helped you invent something you didn't realize was possible. Again, eureka!
The Y-Ball demonstrates how free, unstructured play can be a form of exploration and how chance can produce outstanding results when enough pieces are at hand and ready to be connected. The 99-Word Story for this month emphasizes this link between exploration and chance. Exploring new cultures, we collect pieces of information that lead to chance discoveries back in the familiar territory of home.
When you discover ways to capitalize upon exploration and chance to become more inventive, please share them!
Get Busy and Play!
The Y-Ball is a fun toy. Combine it with von Oech's Ball of Whacks or X-Ball and the possibilities for creative fun expand exponentially. Pieces for all three toys can be interchanged to make new designs because they are all based on the same mathematical formulae.
But if you are looking for even more possibilities, try playing with von Oech's pieces on a vertical surface like a file cabinet or a flat horizontal surface like a cookie sheet. What other magnetized puzzles or toys are at hand? Bottle caps, paper clips, and bits of ferrous metal might also create possibilities. Can they be used with the Y-Ball in unexpected ways?
Give yourself the luxury of a few moments to both explore and respond to chance. You don't need a Y-Ball or anything else magnetic, just an attraction to what you find nearby. You also don't need to take a lot of time. Even a few moments can be the perfect stress relief or transition to a new, more creative frame of mind.
Read previous issues. Click Archives!
To add or delete your name to our mailing list, email with a short note in the subject line.
I want this newsletter to be practical, succinct, and thoughtful. If you have suggestions about how we can meet these criteria, please let us know! Send us an with your thoughts and ideas.
Home | Services | Products | Mission | Ideas | The Group | The Buzz
(c) 2005 - 2010 The Firefly Group