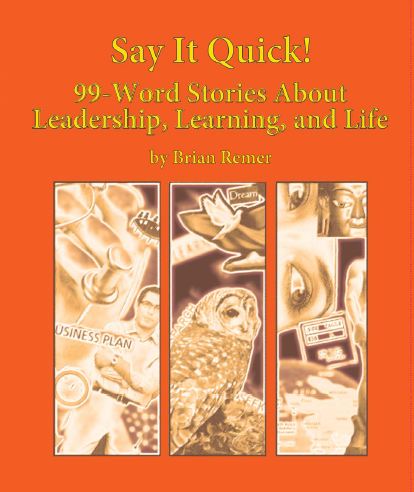 Your ETR (Estimated Time to Read): 5 minutes
Your ETII (Estimated Time to Implement Ideas): 5 weeks
August 2011
NEW this month: My book, Say It Quick! 99-Word Stories about Leadership, Learning, and Life is now available! Click HERE to learn more.
In this Issue:
Readers Respond to Memory Beads.
This month we'll tackle the subject of meetings: When they work and why they don't. But first let's consider the purpose of meetings with this 99-Word Story.
All Together
Imagine dining out with a group of life-long friends - a big group - twenty-four in all! After 5 hours of food and highly spirited conversation up and down the long table, the woman across from you bursts into boisterous song. Shortly, the whole table is singing loud enough to rattle the windows.
This is a common experience in parts of Spain but, as a foreigner, I was worried about disturbing other restaurant patrons. Then, to my surprise, all the other diners joined in! People on the street heard us and added their voices too.
Collaboration can be contagious!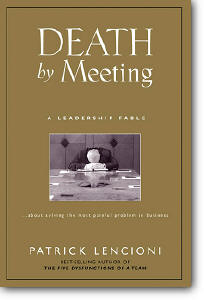 Death by Meeting
Meetings are the most loathed business practice. Actually, I have no evidence for that statement but based on water cooler anecdotes it sounds arguable. It certainly is easy to find people who have had bad experiences with meetings.
It may come as a surprise, then, for Patrick Lencioni to argue that meetings are, in fact, the most important of business practices. In his book Death by Meeting, Lencioni, a consultant specializing in executive team development and organizational health, pinpoints the problem with most meetings and outlines a simple strategy for making meetings the productive process they should be.
Through a storytelling format, Lencioni uses a fictional tale to teach his lessons about meetings. Readers follow the story of Casey, whose company has just been acquired in a friendly takeover. Unfortunately, the new business partners immediately see problems and they threaten Casey with the loss of his job if he doesn't clean things up, starting with the meetings of his upper management team. With the help of an unexpected outsider and his own willingness to try a new approach Casey turns things around and proves his team can be productive.
Lencioni maintains that meetings become ineffective when they lack drama and have little structure. When people spend an inordinate amount of time on trivial, short-term concerns, they are unable to focus on long-term, strategic issues. As a result, they spend their time putting out small fires and never igniting their own passion for the job. This lack of passion permeates the workplace dragging everyone toward mediocrity.
For his antidote, Lencioni recommends four types of regular meetings.
A daily check-in of no more than five minutes to share urgent concerns
A weekly or biweekly meeting of 45 to 90 minutes to focus on immediate tactical issues
A monthly strategic meeting to analyze, debate, and decide upon critical issues that affect the business
A quarterly off-site review to assess the business in a holistic, long-term manner
Lencioni concludes his business tale with an executive summary that provides details about how to keep these meetings on track and on time with facilitation tips, sample agenda items, and more detail about what to include in the meeting.
Death by Meeting By Patrick Lencioni Jossey-Bass, 2004 ISBN 0-7879-6805-6
A Meeting Culture
Meetings become deathly events when they are routine. People realize they need a time for regular interaction but it's not always clear exactly what that interaction should be. Many times the purpose for meeting is never defined. In other instances, there are several conflicting purposes.
One thing I like about Lencioni's book is its description of the four types of meetings. Perhaps we assume that we are too busy to meet more than once a week so we make that one meeting serve every purpose we can imagine. Trying to do everything, we accomplish very little. Lencioni makes clear that having several regular meetings, each with its own function, actually enables us to accomplish more.
When we call a meeting to generate ideas, make a one-time decision, share breaking information, or something similar, the purpose and expected outcome is clear. But we are not so explicit about the purpose of our regular meetings. With familiarity comes complacency and soon we find ourselves coasting toward irrelevance.
The whole concept behind meetings, I believe, is to coordinate and manage all the different interests and activities of an organization. We meet so we can collaborate to achieve shared goals. And even though collaboration sometimes happens spontaneously, as in the 99-Word Story for this month, typically it needs to be coaxed and nurtured.
When the purpose for meetings becomes embedded in the organizational culture, then collaboration really can become contagious.
99 Tips for Terrific Meetings
OK, I confess, I don't have 99 suggestions to make meetings better. I could probably brainstorm a list but I'm afraid I'd miss your favorite. So why not send me your best ideas and we'll see whether collaboration really is contagious!
What have you done to make meetings productive in your organization? How have you nurtured collaboration? Do you have a favorite technique or strategy to make meetings effective?
and I'll add them to the list below. Come back often to see your additions and comment on the other tips you see. Here are the first nine to get us started.
1. Bring healthy snacks. Sharing food builds bonds.
2. Put pipe cleaners or fidget toys on the table.
3. Rotate responsibility for facilitation.
4. Each meeting, have one person spend 5 minutes teaching something about their work.
5. End the meeting with each person identifying one thing that went well.
6. Summarize by having everyone name the first action step they will take after the meeting.
7. Share a headline from the morning news and spend 5 minutes talking about how that issue might be a metaphor for one of your pressing business issues.
8. Use mind mapping on a large wall chart to record the meeting notes.
9. Discuss the big picture issues first so you can spend more time on them rather than running out of time at the end of the meeting.
The game ends with the 99th tip so don't wait until number 98 to !
10. Similar to your #3 idea to rotate facilitation, we rotate bringing an idea to brainstorm for the meeting and the person that brings the idea also facilitates the discussion. This is a running agenda item at all our staff meetings – sometimes we know in advance if the person that it is assigned to is prepared, other times we find out in the moment. Ideas range from ways to reduce costs in particular areas, to streamline processes, improved marketing plan, to generate more business with a particular client, etc. --Kathleen Bonvicini, New Haven, CT

11. My idea is to have a quick go-round check -in at the beginning so that everyone gets to update others on where they are and what they're bringing. --Leslie Brunker, Portland, OR

12. Start meeting on time
13. No side conversations
14. Keep meeting moving by facilitating agenda items
15. Keep participants on task(s)
16. Do not run over time allotted
17 Take a break if meeting is longer than 2 hours --Sheryl Tedford, Concord, NH
Comments from readers about the use of Memory Beads in the Firefly News Flash for June 2011:
When I read about beads, I immediately thought of the rosary. I was wondering if Ms. Deck was going to say her idea came from that Roman Catholic practice. It would be interesting to know when the rosary was [first] employed to recount different subjects for prayer. It could have been early on in countries where literacy was low and folks could look at images and pictures and finger beads to trigger memory. I understand that is the reason for many paintings, stained glass windows, etc in early churches. -James R., Arizona
James, you've made an interesting connection here. Seems there are several "memory enhancement methods" that have fallen out of fashion in our modern culture! -- Brian
It is always a happy moment when one of your newsletters pops into my Inbox because they make me stop and consider my craft. I will try the Memory Beads Activity and report back. My immediate thoughts on application revolve around either performance conversations so that they have a definite marker for each step or the process of debriefing an activity. -- Linda Keller
If you like what you have read in this issue, I would like to bring the same innovation, creativity, and playfulness to your next meeting or learning event.
Whether you need a keynote speaker, or help with strategic planning, performance improvement, or training facilitators and trainers in your organization, I look forward to your call (802.257.7247) or .
-- Brian
Read previous issues. Click Library!
To add or delete your name to our mailing list, email with a short note in the subject line.
I want this newsletter to be practical, succinct, and thoughtful. If you have suggestions about how I can meet these criteria, please let me know! Send me an with your thoughts and ideas.
Home | Services | Products | Mission | Ideas | The Group | The Buzz
(c) 2005 - 2011 The Firefly Group