Your ETR (Estimated Time to Read): 5 minutes
Your ETII (Estimated Time to Implement Ideas): 5 weeks
June 2010
In this Issue:
In this issue, I'll examine the value of telling a story for teaching, teambuilding, and creating rapport. But first, let's look at this 99-Word Story for some ideas about what makes a good tale in the first place.
Being Verbose
Katherine Sharpe edits her 400 Words Magazine at www.400words.com. Each essay is written in 400 words or fewer. In December of 2006, Newsweek magazine brought her to my attention by asking, "Can something significant be said in 400 words or less?" Well, can something meaningful be said in exactly 99 words or in a sonnet of fourteen lines? Can a bumper sticker ring true? Is there wisdom in a fortune cookie?
Let's be even more succinct. What about a caress or a kiss?
Meaning comes from the investment of the listener not the quantity of the verbiage.

Chat Pack Stories
Big stories come in small packages. At least that's the case with Chat Pack Stories, a deck of 156 tiny cards each with a question designed to spark a full-size conversation. Open the pocket-sized plastic box, pull out a card at random, and read the question. Whether you are trying to break the ice, be the life of the party, invigorate your family dinnertime, or take advantage of a teachable moment, you'll find plenty of inspiration.
Chat Pack Stories are one of several conversation starter products from The Question Guys, Bret Nicholaus and Paul Lowrie, who began their business by writing a book of original ice-breaker questions. That book evolved into four different Chat Pack collections. Besides a standard version, there is one for kids, one about Christmas, and one for telling stories.
Sample cards from the Stories Pack include:
"Got a story to share about missing a great opportunity because you were just a few minutes too late? Tell your story!"
"Got a story to share about getting caught in a deluge of rain with nowhere to hide? Tell your story!"
"Got a story to share about being somewhere so remote you lost all sense of civilization? Tell your story!"
Now, I'll admit a minor concern I have about this product by raising a question: What does it say about our ability to engage one another in meaningful conversation if we have to tote around a list of questions as a cheat sheet? That said, I do find Chat Pack cards engaging as well as effective for sparking discussions and sharing little-known stories among even those who are long-time friends. They work well with groups of any size. You could even use them to inspire your own personal journal writing. And who knows, using Chat Pack Stories might even teach you and your friends how to become better conversationalists!
When that happens, please !
Multifunctional Stories
As the 99-Word Story for this month suggests, much of the responsibility for effective communication belongs to the person receiving the message. Yes, communication is a two-way street. Books have been written about how to tell a good story and deliver an effective message. But there is always the great unknown: What happens inside the head of people who hear your carefully crafted story?
Terrence Gargiulo has done a great deal of research and study about the effective use of stories. At his website, Makingstories.net, he talks about the many uses of stories identifying nine functions a story can have.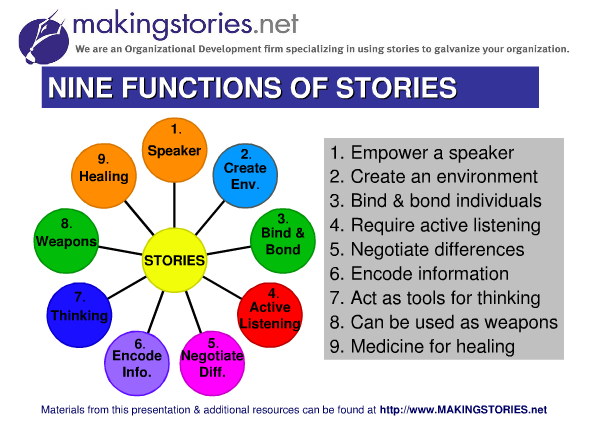 In his chapter "Storytelling" in The Handbook of Experiential Learning (Mel Silberman, editor, Pfeiffer, 2007) Gargiulo says, "These nine functions [of stories] are essential aspects of leading any learning experience. On the surface, we use stories to warm up a group, entertain them, and / or create an environment. …if we are a little vulnerable, circumspect, or reflective, and if we don't take ourselves too seriously, our intentions will spread through the group and positively affect its behaviors."
Gargiulo's emphasis is on using stories to tap into the inner dialogue of listeners. Stories should be told in such a way that people are invited to share their interpretation and add to the group's understanding. He cautions, "Steer away from using stories to encode information. Stories that encode predigested messages such as allegories offer the weakest form of learning." They miss this opportunity to invite others to weigh in with their ideas.
His preference is to open the room to the stories of everyone. "When people listen actively to one another, they enter the world of another person. Our understanding of another person's story is gained by working with bits and pieces of our own stories to find common connections between the story being shared and our own experiences."
In other words, tell a story to get a story. That's the idea behind Chat Pack Stories and it's also the basis of the Activity for this month featured below.
Terrence Gargiulo is author of Stories at Work, The Strategic Use of Stories in Organizational Communication and Learning, and In the Land of Difficult People. For more information about these and his other books as well as how to use stories effectively, go to www.makingstories.net.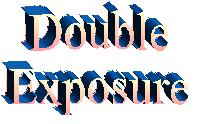 Double Exposure
When my daughter was very young, I noticed that she was most enthralled when I told the simplest stories. She seemed interested in hearing tales of the quotidian activities of my boyhood self back in the "olden days." And I realized too that these simple stories were really a great opportunity to share my perceptions, fears, hopes, expectations, mistakes, and successes - exposing my "less perfect" side and making me as the "adult" a bit more "human."
Being vulnerable by sharing a bit about oneself became the basis for a game I invented to celebrate my parent's fortieth anniversary. I created a deck of cards each with the inspiration for a personal story. Sample cards included, "Tell about a time you went to the dentist," "Tell about a time you were jealous," and "Tell about a time you tore something apart."
To play the game, each person would role a die and move their marker on a game board to land on a picture of another family member. The game was called Double Exposure because both people would tell a story for the card that was drawn. To my surprise and the delight of everyone, the game held the attention of all sixteen members of our extended family from ages six to seventy-six for two hours. And, we learned so much about each other!
Later, I adapted the game for use with board members in a business setting who wanted to integrate new people into their team. This required only the modification of a few questions. Instead of a game board I used a token for each player. Role the die and move your token around the table. Wherever it lands, that person becomes your partner and you both tell a story about the card that you pulled from the deck.
If you'd like to try Double Exposure with your group, you can down load the CARDS and DIRECTIONS. Just print it on perforated laser business cards available at stationery stores. Like the Chat Pack series, you can also pull a card at random and let several people tell a story. However you modify the game to suit your group, I'm certain you'll be pleased that you tried this simple technique to deepen relationships by sharing experiences. And, of course, when you do, please let me know the results!
Read previous issues. Click Archives!
To add or delete your name to our mailing list, email with a short note in the subject line.
We want this newsletter to be practical, succinct, and thoughtful. If you have suggestions about how we can meet these criteria, please let us know! Send us an with your thoughts and ideas.
Home | Services | Products | Mission | Ideas | The Group | The Buzz
(c) 2005 The Firefly Group